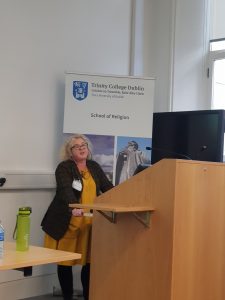 Some of the BtG team attended the Irish Sex Work Research Networks' Conference in Dublin on Friday 16th November, at Trinity College. Entitled 'Advancing a Social Justice Agenda for Sex Workers', with a range of presentation from academics and activists alike, the day proved to be deeply moving as well as informative.
Do take a look at the ISWRN website for a full review of the day, but here are a few highlights:
Dr. Susann Huschke of the University of Limerick spoke about 'the danger of a single story: reflections on 'truth' and power in sex work research'. Susann talked passionately about approaching sex work research from a  wide angle.
Dr. Leigh-Ann Sweeney presented on 'a review of health and social care services response to sex workers in the Republic of Ireland' where Leigh-Ann explored the health impacts on sex workers. Importantly Leigh-Ann looked at 'where we go from here' and also facilitated a workshop on health needs for sex workers.
There were also fascinating and impassioned presentations, and respectful debate, throughout the day. With contributions from: Dr. Pippa Grenfell of the London School of Hygiene and Tropical Medicine, Mr. Luca Stevenson of the International Committee on the Rights of Migrant Sex workers in Europe (ICRSW), Dr. Belinda Brooks Gordon of Birbeck College and a knowledgeable post-speaker's panel – we came away with more knowledge and insight than we arrived with – always a good sign after a conference. 🙂
We would love to tell you everything about this amazing day – but there simply isn't room to do this justice. Do pop along to the ISWRN's twitter here and website here to catch up.
Following the conference, the team at ISWRN organised the Laura Lee Sex Worker Human Rights Annual Lecture this was a moving, deeply powerful and inspiring public lecture that was well attended. We shall honour this here on BtG in a separate dedicated post. Laura Lee was a champion of BtG, a colleague, a mother – a friend. Read the full post: here.
The BtG team
Image credit: Dr. Rosie Campbell