Jane Scoular
Jane Scoular is a Professor in Law at the University of Strathclyde. Her work is a primary reference in the field of the legal regulation of commercial sex and her scholarship includes original theoretical expositions in books and internationally peer-refereed journals as well as international empirical studies, funded by the Joseph Rowntree Foundation and Scottish Executive and the ESRC for a comparative project on European prostitution regimes.
She has been a Visiting Scholar at the Universities of New York and Stockholm where she researched the Swedish law relating to prostitution. She was a member of the Scottish Parliament's Expert Panel on Prostitution and continues to advise policy in this area.
Prof Scoular sits on the Management Committee and co-chairs the scientific programme on 'Prostitution Policies and Politics' in the COST Action IS1209: Comparing European Prostitution Policies. This new European research network on prostitution policies brings together scholars on prostitution from throughout Europe.
Key publications include:  'The Subject of Prostitution: Sex work, Law and Social Theory'  published by Routledge/Cavendish Dec 2015 https://www.routledge.com/products/9781904385516 , 'What's law got to do with it? How and why law matters in the regulation of sex work' 2010 37(1) Journal of Law and Society 12-39; Regulating Sex/Work: From Crime Control to Neo-liberal Regulation Scoular & Sanders (eds) (Wiley Blackwell, 2010); (with Hubbard, P.J. and Matthews, R.) 'Re-regulating sex work in the EU: prostitute women and the new spaces of exception' (2008) 15:2 Gender Place Culture 137-152; (with O'Neill, M.) 'Regulating Prostitution: social inclusion, responsibilisation and the politics of prostitution reform' 2007 British Journal of Criminology 47(5) 764-778 .
http://www.strath.ac.uk/humanities/courses/law/staff/scoularjaneprof/
Teela Sanders
Teela Sanders is a Professor  in  Criminology & Director of Research in the School of Criminology at the University of Leicester. Her research focus is on the intersections between gender, regulation and the sex industry, with a focus on exploring hidden economies. She has an international profile as a leading expert in the studies of sex work, with an established and ground breaking publication list including monographs Sex Work: A Risky Business (2005) and Paying for Pleasure: Men who Buy Sex (2008). Prostitution: Sex Work, Policy and Politics (Sage, 2009) is co-written with Jane Pitcher and Maggie O'Neill. Sanders has edited several collections, most recently the Oxford Handbook of Sex Offences and Sex Offenders (OUP 2016).
With Kate Hardy, Professor Sanders has completed a large scale project funded by the ESRC on the UK striptease industry. This project investigated working conditions of dancers and will be detailed in the book, (co-authored with Kate Hardy) Flexible Workers: Labour, Regulation and the Political Economy of the Stripping Industry in the UK (Routledge, 2014). An ESRC Follow on Award enabled work with Rosie Campbell to directly influence Sexual Entertainment Venue policies across the UK, and the production of an online and Iphone App resource for dancers containing safety, self employment rights and tax awareness information. Dedicated to exploring new and evolving aspects of the sex industry a Wellcome Trust grant has provided detailed quantitative data regarding sex workers working online of which the findings are here in a summary briefing and a Guardian report. http://www.theguardian.com/society/2015/feb/27/most-sex-workers-jobs-health-education-charities-survey
A discussion about the research with a student escort and Teela can be heard in this BBC Woman's Hour programme (13th April 2015 – starting at 19:40 minutes).
Current work focuses on the internet and sex work in a large ESRC funded project (2015-2018) with Prof Jane Scoular titled 'Beyond the Gaze'.
http://blog.wellcome.ac.uk/2015/06/08/researcher-spotlight-dr-teela-sanders/
Rosie Campbell OBE
Rosie is a Research & Netreach Officer based in the Department of Criminology, Leicester University working on the Beyond the Gaze research project.  Rosie has carried out research, and published on sex work, for two decades, studies have included local and national studies, across diverse sectors of the sex industry, with many taking a collaborative, participatory action approach with policy and practice impacts (e.g.s http://www.dancersinfo.co.uk/ http://www.jrf.org.uk/publications/living-and-working-areas-street-sex-work
In a voluntary capacity she was a founder member of UK Network of Sex Work Projects, Chair for eight years and with UKNSWP worked with sex work projects throughout the UK. She carried out the National Ugly Mugs (NUM) development Project working with others to establish  NUM, currently she  is trustee and Chair of  National Ugly Mugs  https://uknswp.org/um/
She has been involved in delivering frontline outreach services for sex workers as an outreach worker or Manager for many years, she was previously  manager of Armistead Street & Portside indoor sex work support projects in Merseyside where she was involved in pioneering approaches to address crimes against sex workers as hate crime. In recent years she  was CEO of Basis Yorkshire, which houses Basis Sex Work Project delivering services to sex workers in Leeds, she retains a role as expert adviser, lead for Beyond the Gaze/Basis netreach and outreach volunteer with Basis. In all her work she has advocated for polices and service provision that recognise the diverse experiences of sex workers, which are evidence based and enhance the rights and safety of sex workers. Rosie gained her  PhD at  Durham University, on treating crimes against sex workers as hate crime in Merseyside, findings from this are published  in book chapter 'Not Getting Away With It' in  Chakraborti, N. and Garland, J. (2014) (eds) Responding to Hate Crime: The Case for Connecting Policy and Research, Bristol: The Policy Press.  In 2013 she was awarded an OBE for her work.
Matt Valentine-Chase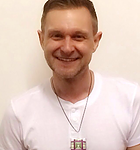 Matt was a sessional researcher  on the Beyond the Gaze research project and now manages the BtG website.  He updates the blog, news and events listings and also continues to attend national and international conferences, representing Beyond the Gaze and reporting on the events and findings. Matt has written for periodicals, sexual health websites and on the Beyond the Gaze blog on various issues facing sex workers including coping with stigma, managing the work-life balance and sex work and mental health.  He has contributed to the safety and privacy information for sex workers, being produced from the Beyond the Gaze findings.
A sex coach and qualified therapist (www.sexcoaching.london), Matt  has worked therapeutically with sex workers for over sixteen years. He coaches sex workers to manage their work-life balance and also counsels workers who often find it difficult to find a sexwork-friendly therapist. Matt is dedicated to giving sex workers a voice by supporting sex work professionals in his therapy practice and by contributing to and taking part in participatory research.
Jane Pitcher
Jane worked part time on BtG between September 2015 and September 2017 and is now involved on a sessional basis. She holds a PhD entitled Diversity in sexual labour: an occupational study of indoor sex work in Great Britain,  this was funded by the ESRC and she completed it at the Department of  Social Sciences at Loughborough University. Her PhD explored the working experiences of sex workers in different indoor settings, drawing on in-depth interviews with adult female, male and transgender sex workers (https://dspace.lboro.ac.uk/2134/16739). She also worked as a University Teacher in the department at Loughborough, including

running a module on Feminism and Sex Industries. Jane has more than 20 years' research and evaluation expertise in voluntary, academic and public sector organisations. Her research interests include intimate labour, labour market structures and gender, and policy responses to sex work. Jane has undertaken research and published on sex work and services to sex workers, criminal justice and community safety and labour market disadvantage. Recent publications include Sanders, O'Neill and Pitcher (2009) Prostitution: sex work, policy and politics (Sage) and Pitcher, Campbell, Hubbard, O'Neill and Scoular (2006) Living and working in areas of street sex work: from conflict to coexistence (Policy Press). She was co-academic representative on the Board of the UK Network of Sex Work Projects (now National Ugly Mugs) from 2010-2015 and continues to offer support in an advisory capacity.
Stewart Cunningham
Stewart worked part time on BtG between September 2015 and September 2017 and is now involved on a sessional basis.  He is in the process of finishing his PhD at the University of Strathclyde, which explores the concept of human dignity and its use in political and activist discourse on sex work. Stewart also works part time as a Research Associate at the Hertie School of Governance in Berlin focusing on international human rights law.  He is a member of SCOT-PEP and has been involved in sex worker rights activism in the UK since 2013.