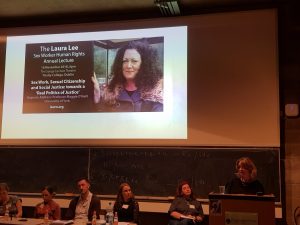 Following the Advancing a Social Justice Agenda for Sex Workers conference in Dublin on 16th November 2018, the team at the Irish Sex Work Research Network, presented the first Memorial Annual Lecture on Sex Worker Human Rights, in honour of Laura Lee, a champion supporter of the BtG project, sex worker activist and dear friend of many who attended the event. The topic for this year's lecture was 'Sex Work, Sexual Citizenship and Social Justice: Towards 'a Real Politics of Justice'.
Professor Maggie O'Neill made a moving keynote speech where we all remembered Laura together, focused on her legacy and explored how we can come together to further the cause of social justice and inclusion. Dr. Rosie Campbell of BtG and the University of York, tweeted: 'Lucky to be in #Dublin to hear @maggieoneill9 give the 1st @GlasgaeLauraLee sex worker human rights annual lecture focused on social justice & need for inclusive citizenship drawing on decades of participatory action research & creating knowledge…' Matt Valentine-Chase of BtG said: 'After a powerful conference, we now remember Laura Lee, at The Laura Lee Annual Lecture: Sex Work, Sexual Citizenship and Social Justice: towards a 'Real Politics of Justice'.
Laura was known to be a 'woman of power' and after her passing, allies, friends and colleagues took to social media to say 'Rest in Power'. The conference and the following Laura Lee Lecture oozed a sense of sadness tinged with the gift of determination Laura left us all with. The speakers and audience contributors often reflected on this gift and how they will continue this, using it as a tool for change – informing individual, organisational and societal evolution – towards social justice and personal enablement.
Laura – we salute you. Forever in our hearts, our minds – Our Power.
The BtG team xXx
Image credit: Dr. Rosie Campbell