The Sexual Freedom Awards (http://www.sexualfreedomawards.co.uk/) is in its 23rd year and this year's ceremony took place on 29th November in London. The awards honour pioneers in the sex, sex education, sex activism and striptease artist industries, as well as their allies. Rosie Campbell and Matt Valentine-Chase of Beyond the Gaze were there to support all of the nominees.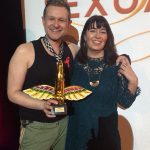 The North was well represented this year with nominations for Beyond the Gaze's partners Basis Yorkshire (https://basisyorkshire.org.uk/) nominated in the activist of the year category for their work in supporting sex workers and challenging stigma by their evidence based approach that has enabled them to advocate for a change in approach to sex work by Local Authorities and Police. This resulted in improving safety for sex workers in Leeds. Emily Turner of Basis Yorkshire (https://basisyorkshire.org.uk/) was nominated in the ally of the year category for her work in sex worker engagement, challenging stigma and even learning Romanian so that she could better support Romanian speaking sex workers. Emily has worked for Basis for five years and has befriended, advocated for, and defended the rights of over 500 sex workers across Leeds.
Professor Maggie O'Neil, of The University of York and co-founder of the sex work research hub (https://www.york.ac.uk/sociology/research/current-research/swrh/) (along with Rosie Campbell), was nominated in the ally of the year category for her 30 years in participatory action research and participatory arts methods, giving sex workers a voice and being a passionate advocate for sex worker's rights.
Dr Kate Lister, of Leeds Trinity University and the sole curator of Whores of Yore ([thewhoresofyore.com%29%20]thewhoresofyore.com)  (https://twitter.com/WhoresofYore), a public engagement project that works to make research on sexuality and the history of sex work freely accessible won the Sexual Freedom Award 2017 in the publicist of the year category. Dr Kate Lister is a historian, author and lecturer. Whores of Yore features Kate's research as well as articles from academics, sex workers, activists, artists, therapists and historians. Kate is an avid supporter of Beyond the Gaze.
Matt Valentine-Chase of Sex Coaching London (www.sexcoaching.london) won a Sexual Freedom Award for his work with people with bodies of difference and his 24 years in the sex positive arena. His work enables men and women (including trans men, trans women and intersex men and women) to own their sexuality and enjoy their bodies. Matt is also a researcher for Beyond the Gaze and incorporates this and other participatory action research into his work.
For further info about all  the finalists and the winners go to: http://www.sexualfreedomawards.co.uk/2017-finalists/
A great night was had and all of the nominees took their well deserved place in being honoured for their dedication to sex positivity, sex worker rights and sexuality education.